Heavy: An American Memoir made me feel heavy. Kiese Layman blew me away from the first paragraph. I was listening to the audiobook and I thought I was listening to an epigraph, but the poem kept going on and on, and I realized that Kiese just writes in poetry. His writing made me think of Toni Morrison. I think Kiese and Mama Morrison are the only folks I have read to date that have made prose feel like poetry.
I felt as if I was listening to a sermon. Not in the way that sermons instruct you on how to live your life, but in the way that made me close my eyes and go "Mhmmmm" because it spoke to something in my soul. Something about looking for love in this such hard world; what it means to be Black in America; being made to feel guilty for taking up space, so you try to make yourself smaller.
As I was listening to the book on my way to work one morning, I was severely triggered. It was a few days after the verdict in the Breonna Taylor case. The day of the verdict, I was upset, but didn't really have time to process because my work life was so busy. I had to prepare for 3 presentations to give to a bunch of white kids on how to care about other people. I didn't have time to check in with myself on how I felt or what I needed.
Two days later, I'm driving to work preparing to give my last presentation (of eleven) of the week. Kiese started talking about how he was expelled from his college for stealing a library book. I work in an office where our clients ask for expulsion every day for the person who raped them. They're found responsible and are suspended, if the client is lucky. A lot of times I see them get an essay.
So, I got angry because people who causes actual harm aren't expelled, but you can expel a Black man for trying to read. What kind of justice is that??
All of a sudden, all these feelings about Breonna Taylor I didn't know I had came rushing to the surface. I found myself screaming and crying at all of the unfairness. The closer I got to work, the more I started crying at the fact that I had to once again implore a bunch of white kids to care about other people, when in reality, I'm lucky if these kids even care about other people. I couldn't bare to stand in front of a class to try to attempt empathy and humanity.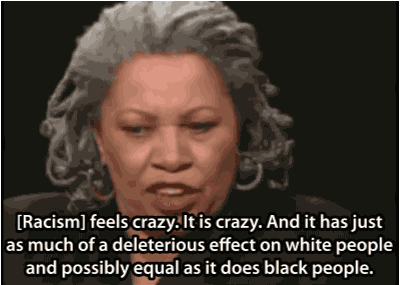 I made it all the way into my office, and I hadn't stopped crying my eyes out. What we are going through as Black people is trauma and I was triggered. How can I tell my clients to take care of themselves when they are triggered and not do the same for myself? My nice white-lady coworker told me to go home.
This week just has been so much, but I am glad I am privileged enough to be able to leave my job and take sick leave, so I can take care of my emotional needs right now. I felt weak for not having the armor my ancestors spent generations building up to pass to their children in order to survive. But I know I am a part of the generation that will break this generational cycle of not addressing this trauma. This is us reclaiming our humanity.
I wonder how this post would have gone if I wrote about Black men and eating disorders?